CLASSICALLY CHIC
By Linda Jennings
Welcome to the Classics Revisited!  Timeless designs pulled from the archives that elude timeless charm, staples of great design.
Here are a few of the top classic products in home design that have enduring popularity! From amber crystal knobs to Parisian freestanding tubs these looks will never go out of style!
AMBER ALERT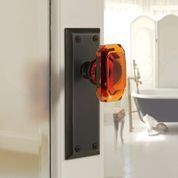 Inspired by vibrant foliage and abundant harvests, the color palette of Grandeur Hardware's Baguette Amber Crystal Knob is perfect for autumn home décor.  Crafted of 24% lead crystal, Grandeur's crystal knobs are remarkable for their clarity and exceptional beauty. The knobs are beveled at the top and bottom to fit the hand for easy turning. Available in interior and exterior sets, they can be paired with a wide range of solid brass backplates and rosettes for a custom look. Offered in a variety of finishes, the Baguette Amber Crystal Knobs look stunning in Timeless Bronze or a distinctive Vintage Brass.
 
English Charm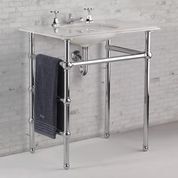 The Heated Washstand from Sterlingham Company Ltd. brings the luxury of a warm towel right to your fingertips. With an English Edwardian style, the Heated Washstands are crafted from solid brass and come in either a wall-mount two leg Washstand with two heated towel warmer rails or a wall-mount four leg Washstand with three heated towel warmer rails. Standard finishes include polished brass, polished chrome, polished or matte nickel, antique gold, copper, and various shades of bronze with optional distressing. An unflagging commitment to quality is an important part of the company's culture, which is manifested by the two-year full replacement guarantee that comes with each warmer.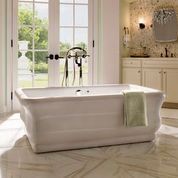 Perfectly Parisian
With its singular mix of vintage inspiration and modern aesthetics, the Parisian tub's exterior is bold and beautiful. Available as a soaker or air bath, the Parisian can be ordered with a number of options such as MTI's Radiance, a heating system or add the therapeutic benefits of chromatherapy, for a more complete, holistic experience. Available only in white, this new style may be ordered in two sizes. As part of the brand's Designer Series, it is crafted from high-gloss cross-linked cast acrylic that has been reinforced for added strength and insulation. The finished tub has a non-porous surface that is amazingly durable, highly resistant to scratches and stains, and easy to clean and sanitize. As with all MTI products, Parisian tubs are made with pride in the USA.

ELEVATED FARMHOUSE
Icera captures the essence of life at the seashore with a beautiful Ocean Gray finish option on one of their newest vanities, the Malibu. This elegant color is cool and serene, a perfect contrast to an all-white bathroom and a dramatic focal point. A great way to refresh the bath with this serene shade of greenish-blue. The Malibu vanity is crafted in a modern farmhouse style with a simple silhouette and slim legs. Four drawers and one cabinet provide ample storage. Icera builds furniture-quality vanities with solid hardwood construction without the use of MDF or particleboard. Other thoughtful touches include dovetail drawer joinery, soft- close doors and drawers, stylish Satin Nickel hardware, and a coordinating mirror.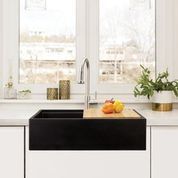 A NEW STONE AGE
Known for their beautiful sinks, Lenova mixes modern convenience with classic style in their Apron Front Ledge Prep Sink Collection.  Notable for its sleek design and extreme functionality, this perennial favorite promises to be a stand-out in the kitchen. The NovaGranite Composite Sink is crafted from a proprietary mix of 85% crushed granite.  It gives it a high heat tolerance and makes the sink extraordinarily durable and resistant to scratches, chips, and stains. In addition, the NovaGranite Composite Sink offers the flexible design options of Lenova's award-winning Ledge Series with an engineered
DRAMATIC DESIGN INSPIRATIONS!
By Linda Jennings
Rich textures, theatrical drama, and modern elements are leading remodeling trends. Homeowners in the market for a renovation are looking for fresh new fixtures and fabulous upgrades to make their house a dream home. These new arrivals in the kitchen and bath and beyond are just the thing to take home to the next level.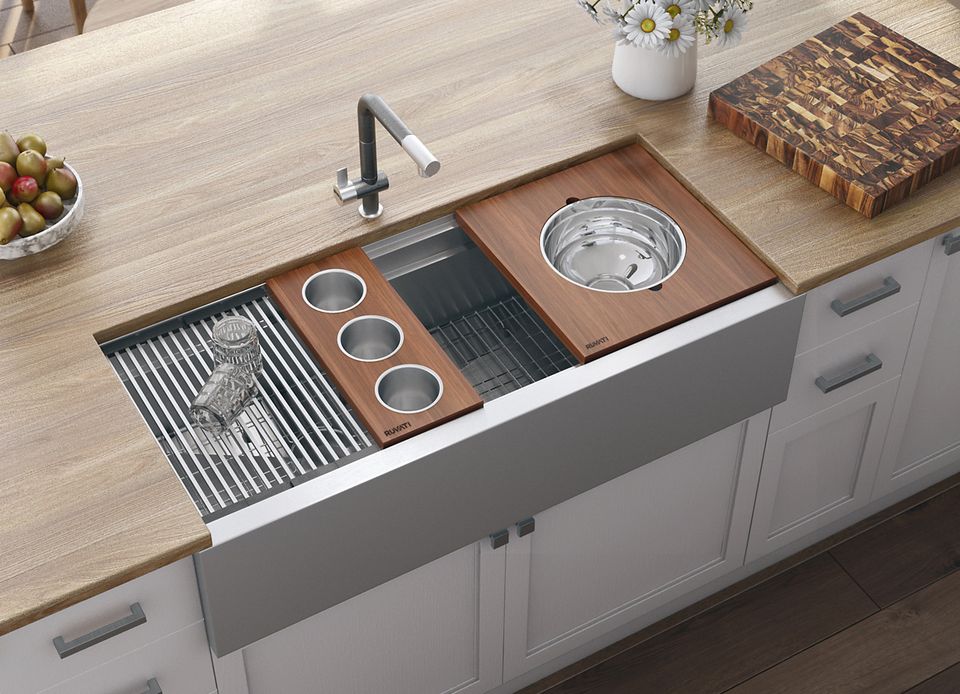 Farmhouse fabulous
Why settle for a standard kitchen sink when you can have so much more? Ruvati has upped the ante when it comes to the kitchen sink, even renaming it as a kitchen workstation. Their 45-inch apron-front workstation uses a two-track system with sliding accessories to boost functionality and allows home chefs to mix, prep and clean for an entire dinner party in the space of a sink. The generously sized basin comes with two colanders, a mixing bowl, a hardwood cutting board, folding drying rack, and attachments that can grate, mix, slice and strain. Ruvati's 45-inch apron-front workstation sink is the perfect mix of elegance and ultra function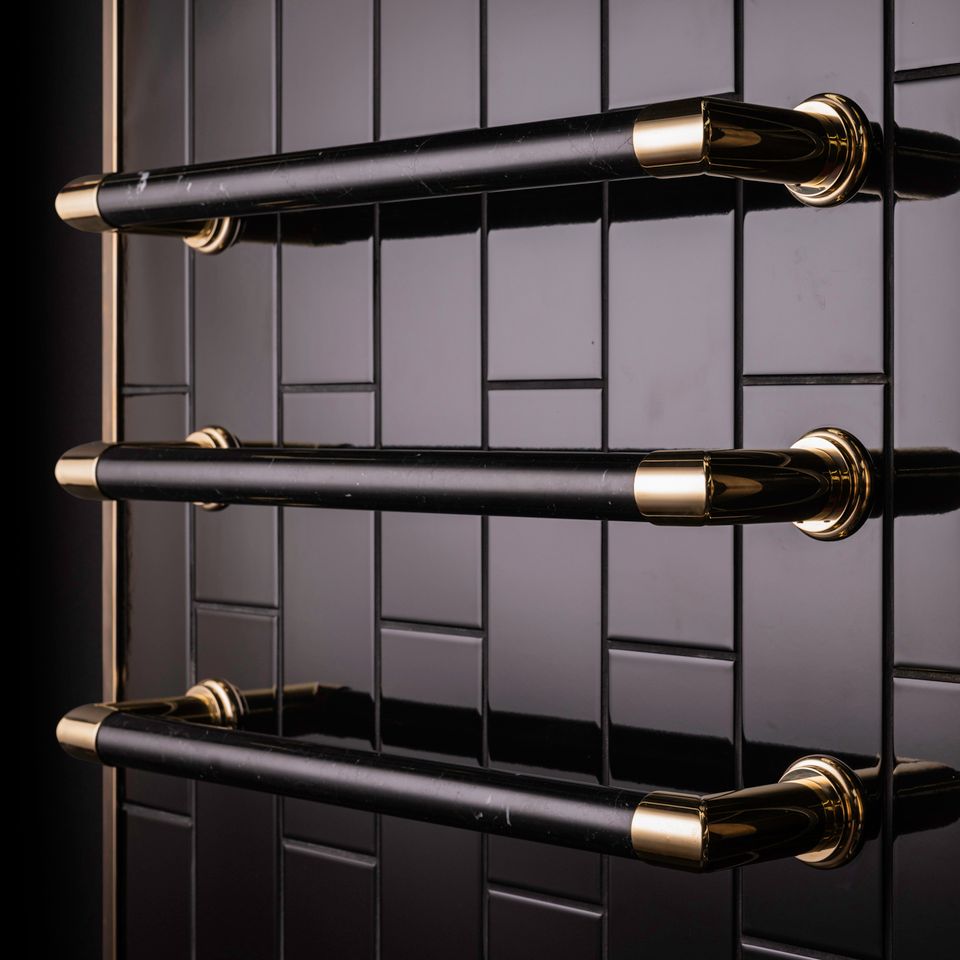 Magnificent Marble
 Sterlingham Company recently unveiled a luxurious line of Marble Rail towel warmers that feature a sleek, space-saving design. These brilliant rails efficiently radiate heat to gently warm towels. The new Marble Rails feature the same dry line heating cables that Sterlingham towel warmers have used for more than 30 years. The single rails may be hung alone or stacked and arranged in nearly any formation. Measuring nearly 24" long, the rails are cleverly installed with hidden wall mounts for a seamless look. They are offered in a selection of five distinctive marbles and available in the brand's stunning line-up of sixteen modern finishes.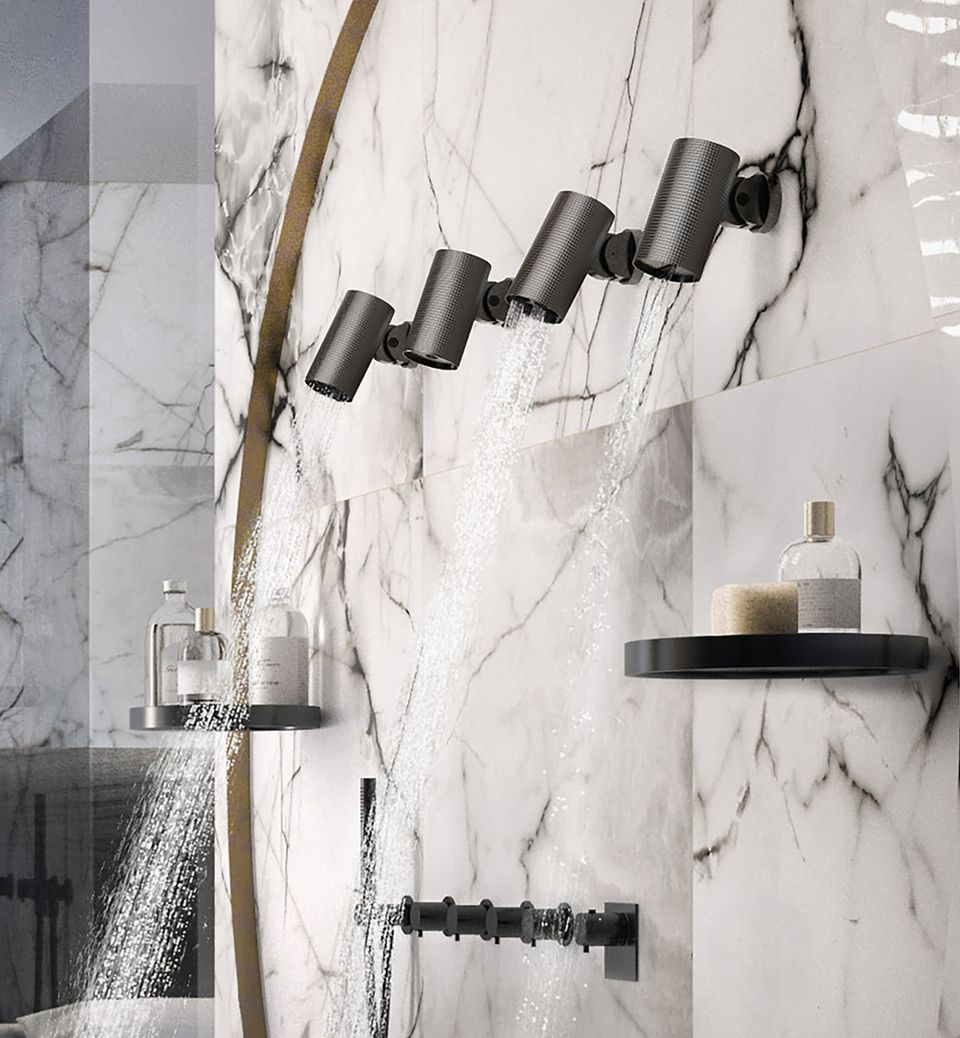 Spotlight on shower style
Go architectural in the shower with the cool new SpotWater Collection by Gessi. Inspired by iconic spotlights of the theatrical stage, these swiveling tubular showerheads are a sculptural choice for the bathroom that delivers big visual impact as well as impressive performance. SpotWater showerheads may be installed alone or in groupings and are fully adjustable with flexible joints for precision positioning. With four different types of aerators to choose from – rain, mist, waterfall and multi-spray –users may mix and match elements and angles to create their own sensory shower experience. Gessi offers a variety of gorgeous finishes including copper, polished nickel, antique brass, aged bronze and shades of white, black and gold.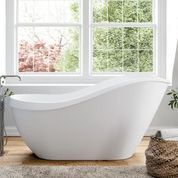 Beach Inspired Bath  
The  Serena bathtub from Acquabella is notable for its captivating design with a contoured silhouette inspired by the rolling tides. This elegant freestanding tub becomes the bath's focal point with gentle curves and intriguing angles that evoke a sense of tranquility and relaxation. It's crafted from Acquabella's signature Dolotek material. With its unique chemical and physical properties, Dolotek makes it possible to mold complex shapes into functional designs and create truly inspired tubs for the bathroom. Measuring 67" x 29", the Serena features an included drain, integral overflow and is offered in standard snow white as well as shades of gray, brown and black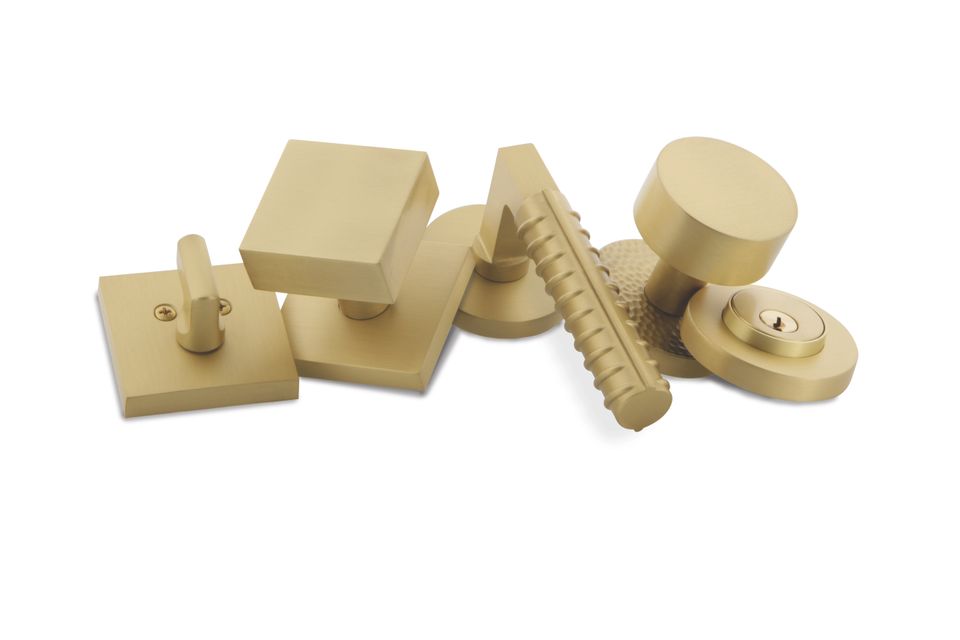 STUNNING IN SATIN Brass
Builders will find plenty of options in the door hardware marketplace these days, but the quality and beauty offered by Viaggio Hardware is truly a step above the industry standard.  Attention to the smallest detail is an important part of the Viaggio brand. Their concealed screw mechanism cleverly hides all installation hardware for a seamless look. Offered in a beautiful array of polished and matte finishes, including a trendy Satin Brass, all Viaggio products are engineered for lasting performance, providing virtually unlimited operation. Their lever handles offer a 28-degree turn radius, providing greater ease of use and a smoother, more controlled turning experience.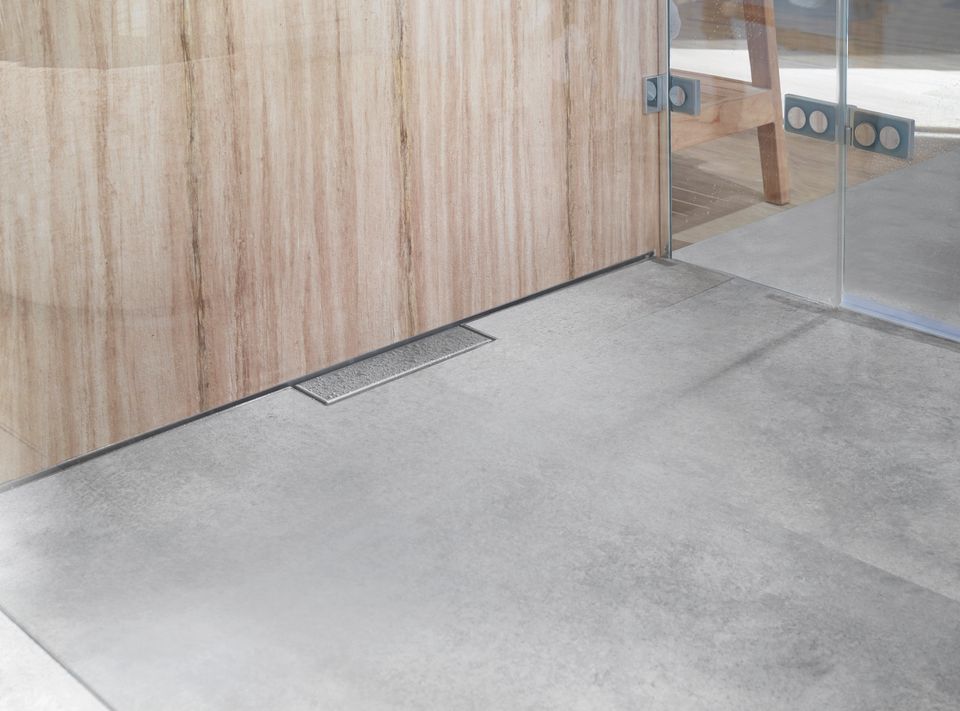 Modern Minimalism
Easy Drain takes subtle to a new level with their nearly invisible M-line drainage system. Perfect for minimalist-inspired bathrooms with its clean contemporary design, the M-Line system offers two grate finishes and reversible trim. The system can be paired with tile up to 3/4" thickness and can extend up to 47-¼" in length. The high-quality stainless steel rough is designed with integrated sloping for effective water drainage and features the brand's Tile Adjustable Frame for quick installation. The M-line is 100% waterproof with their signature Water Protection System, a factory-assembled sealing membrane, and a flexible wall connection to ensure a completely watertight fitting.